Breakfast
9 Included breakfasts
Riding Season
May October
Accommodations
Mid range hotels, twin share
Highlights
Moscow, Red Square, Kremlin, Metro, Sparrow Hills, Russian sauna (banya), Vodka museum, local BBQ, Savior on Blood Church, Hermitage, Peterhof, small towns and villages.
Russia happens to be not only a super-power, but also the world's largest country, stretched across two continents of Asia and Europe. It offers everything, from historic cities and idyllic countryside to artistic riches, museums and a vodka-fuelled nightlife – the ideal choice for small group tours of Russia.
On this Russian motorcycle tour, you will traverse the country's two great cities. Moscow enjoyed the status of capital for most of Russia's history, except for a relatively brief period (about two hundred years), when the Tsar and the government relocated to St Petersburg. But the Bolsheviks moved the capital back to Moscow in 1918, and today it's an extremely diverse city. This 10 day ride would cover these two iconic cities of Russia and amazing landscapes in between.
(+) Expand all
Day 1
: Arriving in Moscow
This is your day of arrival in Moscow. We would expect you to arrive in Moscow by 2 pm. We shall receive you at the hotel, and after some rest and change we would have the tour briefing - itinerary, cultural brief and road rules. Once done with the briefing and paperwork, we will go for a walk and explore Moscow, This would end in a dinner at a nice restaurant with the Russian cuisine close to Kremlin.
Its a day you would see the iconic city of Moscow. We would take a bus & boat tour of the city. Highlights of the day would be the Kremlin and Red Square, shopping mall GUM and Saint Basil's Cathedral. Later we will explore the subway (Metro) and have a walk down Arbat, which is the famous pedestrian street in Moscow, to buy authentic souvenirs. Today you would also get your bikes by the evening.
Day 3
: Moscow – Valday, 400 km
We begin the day with a ride to Red Square to take photos with the bikes. We then leave Moscow and ride to Valday. We will have lunch at around mid-day probably in Tver. Also we visit Valdaisky Iversky Svyatoozersky Bogoroditsky Monastery, one of the most praised places for Orthodox Russians. We stay today in Valday National Park. Here you will see the authentic household with meat and dairy products and an opportunity to take Russian Banya (sauna).
Day 4
: Valday – Saint-Petersburg, 400 km
Today will be a ride through several small towns and villages. One of the cities along our way is Novgorod – one of the oldest and most famous cities in Russia. The old Kremlin and Monastery are perfectly preserved in the heart of the city. We also stop in Gatchina and take a look at the Castle and a Park, and have a coffee. After that, we ride to Saint Petersburg, check-in in the hotel and have a dinner in a local restaurant.
Day 5
: Saint-Petersburg Tour
Today we have a sightseeing tour around the city. In the morning we go to Peterhof, where you see dozens of fountains in the Lower Garden - funny and pompous, simple and complex – they have been delighting guests for the last two and a half centuries. From Peterhof we come back to the city center and after lunch continue with the Palace Square, Nevskiy Prospect and other places of interest.
Day 6
: Saint-Petersburg Tour
This is our second day in this historical city. Today we go to Hermitage, one of the best museums in the world. It takes at least a week to see all exhibits of the Hermitage. Basis the time we have, even half of a day walk will be pretty impressive. In the second half of the day we see St. Isaac's Cathedral and the Church of the Savior on Spilled Blood. The evenings are free for you.
Day 7
: Saint-Petersburg – Pskov, 350 km
Our plan for today is to visit Pskov. Besides Novgorod, Pskov too is one of the oldest Russian cities. We would have our lunch by the Chudskoe Lake. We have a short sightseeing tour around the Pskov city in the evening and dinner in a local restraurant.
Day 8
: Pskov – Derbovezh, 430 km
Its a day we ride on some secondary rodas. Derbovezh is a lake where you get to experience fishing, boat tours and real Russian Banya (sauna) – if you are ready for it. There is sunbathing on the beach, swimming in the crystal clear water, etc. Russian dinner will be cooked by a local chef, and in the evening we will hear some more stories about Russian culture and history.
Day 9
: Derbovezh – Moscow, 375 km
IIt is our last riding day. In the morning we take a 100 km segment of the highway and then get back secondary roads. On the way we visit the Zvenigorod Monastery. We will finish the day in the best beer restaurant in Moscow with a farewell party!
Day 10
: Moscow, Departure
This day you could do you last minute shopping and fly out. If you wish to stay longer and enjoy Moscow, we shall make arrangements to extend your stay.
Want to customise this tour? No worries :)
contact us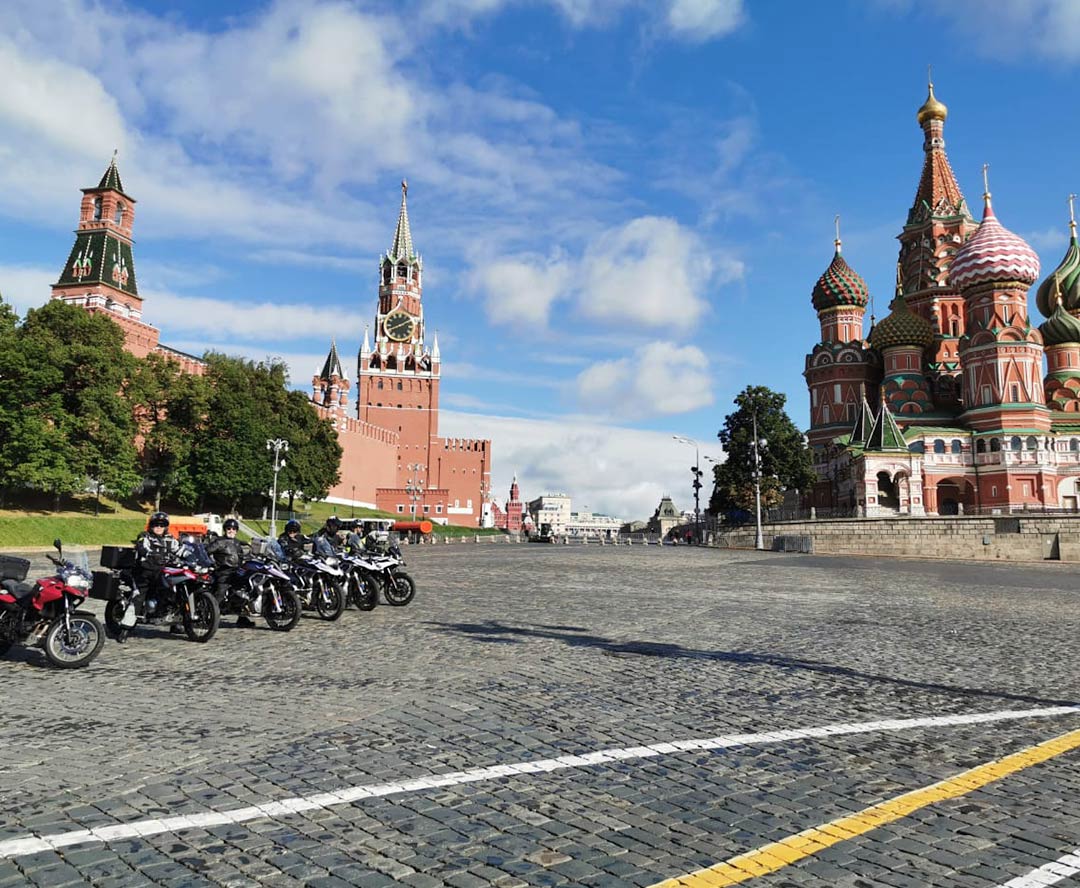 Motorcycle rental (BMW F750/850GS)
Petrol (for rented motorcycles only)
Accommodation in 3-4* hotels (based on sharing a double/twin room)
Breakfasts - All days
Lunches and dinners (Only on riding days; No alcoholic drinks)
English-speaking guide on a motorcycle
Support vehicle assistance
Entry tickets to the places of interest and excursions with local guides
Hotel transfers from/to the airport
Welcome dinner
Visa assistance
Air tickets to/from Russia
Personal medical insurance
Visa counsel fee
All services not mentioned as included
GST as applicable