Hotel Overnights
5 Nights
Breakfast
6 Included breafasts
Riding Season
October to March
Accommodations
Good handpicked mid - range hotels or jungle lodges on twin sharing basis
Highlights
Chiang Mai, Phayao lake, Chiang Rai, Doi Mae Salong, Pu Chi Fah, Phrae, Sukhothai
Starting at Chiang Mai, this is a 6 day superbikes riding experience in the rolling hills of North Eastern Thailand, spiced up with Adventure, Nature and Culture.
You would ride to the famous Phayao Lake, Doi Mae Salong, Doi Tung, infamour in old times - the Golden Triangle and the very popular among riders - Pu Chi Pha plateau. You could opt for an add on of 2 days shopping in Bangkok if you are keen.
Many who travel to Thailand are looking to spend their time relaxing on a beach whilst being served cocktails. Those who choose to travel with Viktorianz, however, are looking for an adventure packed holiday that allows them to experience all that this wonderful country has to offer.
On motorcycle tours of Thailand, you will be able to experience the unique Thai landscape, as well as getting up close and personal with some of the country's most famous tourist attractions. Throw yourself into the nightlife of Chiang Mai, meet the Karen Long Necks (a foothill tribe), and explore the rainforests.
Is there any relaxing?
We will craft an itinerary that suits your needs – if you would like to spend some time on the beach or shopping in Bangkok, consider it done! If you would prefer every day to be packed with adventurous activities (such as bamboo rafting and elephant rides), we can do this, too!
What will I eat?
Viktorianz understands that a lot of people come to Thailand with the expectation of sampling the local cuisine. Your guided motorcycle tour will allow you to taste plenty of local food, and your guide will tell you which foods to steer clear of (not all agree with Western tummies!).
Start - Chiang Mai
Finish - Chiang Mai
(+) Expand all
Day 1
: Arrive Chiang Mai and local tour. Bikes issued by evening
This is the day we shall meet you at the airport and bring you at your hotel. This normally would happen by the afternoon as the check ins into the hotel are at 2 pm. Once check in formalities are done we would go and get our bikes and will move out for a short run to check out the condition of the bikes. Evening you are free to explore the beautiful Chiang Mai town on your own.
Day 2
: Ride out to Phayao Lake and then to the Old Kingdom of Chiang Rai.
This day we ride out East passing some unique hot water springs jutting out of the earth and you could boil eggs in it. Taking really good winding roads we arrive in the ancient town by the large lake - Phayao Lake. Its a short halt for lunch and a boat ride to the centre of lake. We then ride out to yet another beautiful city of Chiang Rai - name after the most famous King Meng Rai. Its a town full of all the attractions of a Thai travel. Evening is at your own disposal to explore this great township.
Day 3
: Ride to Doi Mae Salong, Golden Triangle & Pu Chi Fah
Yet another adventure filled riding awaits you this day. You would ride to Doi Mae Salong - the tea gardens scenario and Doi Tung - famous for shade grown coffee. Once done with these we would roll down to the famous Golden Triangle on the Mekong river. We then ride some beautiful roads to Pu Chi Fah - one of the most favored destination for bikers.
We further explore the beautiful, winding and lesser known roads of North East Thailand. Today's ride would be unbridled fun and we would finish the day in the district made popular by the riders - Phrae.
Day 5
: Ride to Ancient Kingdom of Sukhothai
This day we shall be going to explre two ancient civilisations of North Thailand. The ruins of Si Satchanalai and the Kingdom of Sukhothai. Both of these are UNESCO world heritage sites and are also along some beautiful riding roads. Our night halt is in Sukhothai and you would love the feel of the place.
Day 6
: Ride back to Chiang Mai, deposit bikes
This would be an early morning ride out. Leaving the back roads behind this is the day on the major highway along the Bangkok - Chiang Mai six lane highway. We would be home by the afternoon and the ride finishes. We deposit our bikes and are free to either fly out the same day or may be spend another night in Chiang Mai. Please let us know in advance if the accommodations are required for this night.
Want to customise this tour? No worries :)
contact us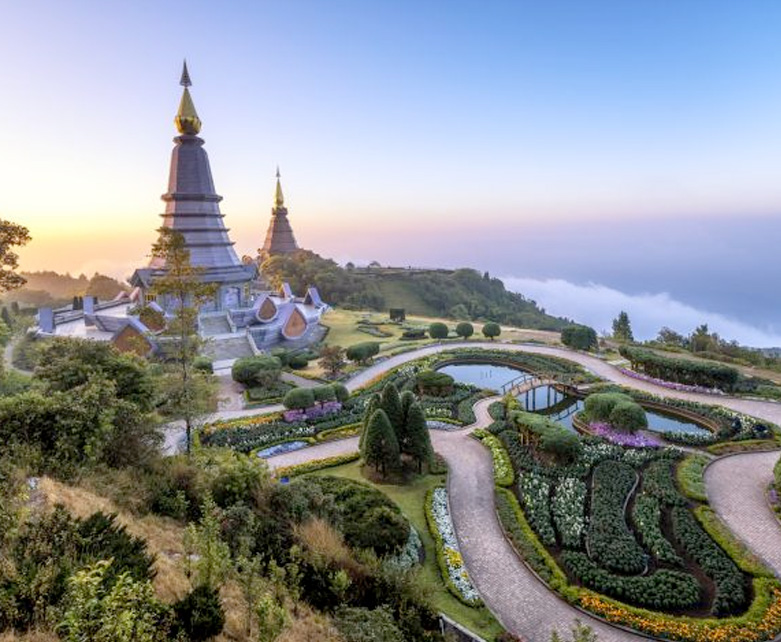 | | |
| --- | --- |
| Single Room Supplement | 6 |
| Additional Night on Day 6 | 1 |
| Upgrade to a higer category bike Z800 | 6 |
If you have any accompanying pillion rider, or wish to upgrade your bike or want to stay the extra day in Chiang Mai, please fill 'Ask Quick Question' form below.
Reception and airport transfers to Chiang Mai hotels
Bike hire as per choice (650 cc) and availability for ride duration
Fuel for bikes and back up truck for entire tour
Tourist place tickets or shows enroute
One English & Thai speaking guide cum mechanic
Guided tour as per itinerary
A TAT certified guide would accompany the ride
Bed and breakfast (Good handpicked mid - range hotels or jungle lodges on twin sharing basis) for 5 nights / 6 days)
Third party insurance of bikes ( damages need to be made good by rider)
Personal insurances of riders (strongly recommended)
Air travel and visas
Lunches, Dinners, drinks
Tips, Souvenirs and Laundry
Repair of Damages to the bike will have to paid by rider
Personal riding gears
5% GST
Cancellation Policy
All cancellations are valid only when communicated in writing. Any changes due to inevitable weather or flight delays etc, will be charged additional, as those prices are not included in the current quote.
More than 30 days prior to departure: 25% of the total tour cost.
29-15 days prior to departure: 50% of the total tour cost.
14-07 days prior to departure: 70% of the total tour cost.
06-0 days prior to departure: 100% of total tour cost.
Please note that there will be no refund either in part or in full for any unused part of the services provided in the package.
- Excellent
" one of the best Super Biking trip organised by Col Manoj from Viktorianz..life time memory and one down from bucket list...kudos to Victorianz Team for their Tag line YOLO ..You live only once ..keep Rocking...God Speed..way to go...Major Bhasker Khosla "
Major Bhasker K, Ghaziabad, India
- Excellent
" My first overseas bike trip last April 2015 along with 7 other biker friends and we rode around 2k Kms across Thailand, it was amazing experience and all credit goes to Victorianz, their back up and entire tour was organised professionally. Same group planning to do one more overseas trip with Viktorianz soon.... "
mohanraj1155, Coimbatore, India
- Excellent
" " This ride was organize by Mr. Gary to travel by Motorcycle for five days through beautiful mountain and roads. We started from Chiang Mai to Mae Sariang, Mae Hong Son,Pai District,Golden Triangle, Chiang Rai to back Chiang Mai. This was very well Mapped out with distance and overnight stay at great hotel.This was one of the highlight after riding all day Hotel and cold Beer. The bikes ware new Model that helps a lot. The guide who was leading was very experience and he make sure everyone in group are riding safe and no one is left behind. we also had a van following us with our luggage.so no need to carry any extra with you. so you can enjoy your ride.This was a great experience with Joy. I would go any adventure trip with knowledgable group and feel safe back home. Thanks. "
Manny M, Philadelphia, Pennsylvania
- Excellent
" Made a trip with my family including my two teenaged sons to Thailand. Totally planned by Viktorianz. It was the best trip we've ever had. All details were tied up by Mike and Sarita to perfection. These guys are very professional and way above the normal tour operators like MMT, Yatra etc. No need to look any further while planning a trip abroad. Thanks guys and looking forward to our next trip with you. All the best. "
Amit P, Lucknow, India
- Excellent
" The Mae Hong Son Loops in North Thailand are on the bucket list of most motor cyclists...and there is no better way than to do it with VIKTORIANZ ! A beautifully crafted itinerary, end to end attention to detail,fantatstic superbikes and riding with great team make it an event of a lifetime.
Some indicators :-
- You are well received.
- Excellent choice of hotels and resorts.
- Wide choice of superbikes, riding gear.
- No compromise on safety and maintenance.
- A challenging route which touches the biker, the tourist, the foodie, the party animal in you.
- Ladies and kids (my 10 year old daughter did it) can accompany. "
Gee E