Riding Season
September - October
Route
About 2000 kms, all black top roads, comfortable ride.
Accommodations
Bespoke Stays in Mid Range Hotels or Lodges on Twin sharing basis
Highlights
Bohemian and Austrian Alps, Backroads of Southern Poland, the Hungarian countryside and the historical towns of Prague, Salzburg, Vienna, Budapest and Krakow.
This 10-day Guided Central Europe Motorcycle Tour combines the scenic beauty of the Hungarian and Bohemian countryside with the historic charm of medieval towns. Be it World Heritage Sites or roadside markets; gourmet food or local brews in a cosy tavern, the rivers, town squares, architecture and spires of Budapest, Prague, Salzburg, Vienna and some smaller medieval towns - will sweep you off your feet and leave you wishing you could stay back forever! It's that mesmerising and that charming a ride.
If you're looking for bike tours of Central Europe that are smooth and easy, this is the tour for you – we ride on all black top roads, so you'll be able to take in the scenery without fear.
For any consultation, advice or customisation please do reach out to Mike on +91- 997 1313 335
(+) Expand all
Prague, known as the "City of a 100 Spires" is the capital of Czech Republic and a major economic and cultural centre, right in the heart of Europe. The city boasts of numerous historic landmarks, churches, museums, bridges and the famous Prague astronomical clock that has featured in Indian as well as world cinema, ever so often. The city centre was added to UNESCO's World Heritage List in 1992 and it is from this fascinating city and the creator of the famous Pilsner, that we will begin our 10-day voyage through the Bohemian, Alpine and Hungarian landscapes.
On the first day, you will fly into Prague by the forenoon, be transferred to your hotels and get time to settle down or explore the surroundings if you wish to.
Day 2 begins with a wonderful city tour where you get to take a peek into history and explore the popular sites in town. We shall take the famous walk from the castle to the city square via Charles Bridge. This will be followed by a ride briefing and in the evening we will be collecting your bikes for the upcoming journey.
Today, we commence our ride with a 372 kms ride to Salzburg- the fourth-largest city of Austria and the birthplace of the 18th century composer, Mozart. The Salzburg city centre is also on the UNESCO World Heritage List. Enroute we would pass by Cesky Krumlov, often referred as the most beautiful small town of Europe. This is a protected heritage town - and we will have to walk it.
The ride from Prague to Salzburg through the eastern Alps and the picturesque Bavarian countryside is indeed a treat. The charming palaces, riverside villages and the beautiful forest expanses make this a memorable ride in more ways than one.
Overnight stay is in a village on the outskirts of Salzburg.
The "City of Music" and the "City of Dreams" awaits us and today we will be riding about 400 kms from Salzburg to Vienna, the beautiful and charming capital of Austria. Apart from being popular as a leading musical city, full of rich Baroque architecture, Vienna is also host to numerous international organizations like the UN and the OSCE.
The route from Salzburg to Vienna passes through scenic, curvy mountain roads overlooking gorgeous shimmering lakes, and vineyards & fruit orchards along the brilliant blue Danube river as well: all of which are perfect postcard shots. Once you reach Vienna, you will have the evening free to explore the city on your own and indulge in the capital's cultural and culinary delights.
Day 5 is reserved for a city tour where you can witness pristine palaces, visit castles and soak in more of the city's history and stories. You have the day to yourself and can spend your time street shopping or taking leisurely strolls around Vienna. Do not miss the gastronomical treasures of Vienna like the roasted chestnuts, sausages or chocolate. Austria is also home to some of the most popular beers around the world!
This morning we begin our 350 kms ride to Budapest- the capital of Hungary. Once known as the "Queen of the Danube", the city consists of two parts- Buda and Pest which are situated on either side of the Danube river and are connected by numerous bridges. Today would be a good mix of highways and country roads. And our stopover for lunch is at a very beautiful lakeside hamlet of Tihany.
Healing thermal waters, spectacular architecture and a buzzing nightlife, make Budapest a wholesome tourist destination and it would be a pity if we continued our tour without exploring the nightlife here.
So, Day 7 is meant for you to rest and gear up for an eventful evening where you could do club hopping, eating and dancing!
Our next destination, is the second largest city of Poland, beckons and today we ride 400 kms to the culturally rich town of Krakow. Krakow is indeed a treat for history buffs, with its charming medieval town square, castles, museums, salt mines and remains of the notorious concentration camps. We ride through some amazing rolling countryside - that would make you sing in your helmet.
Krakow managed to escape the bombings of World War II and hence pre-war architecture and edifices can still be found here. The city is well preserved and has something for everyone. If you're a foodie, bite into the popular and delicious Bagel that was invented in Krakow. You can get one at the many local bakeries across town.
To end our memorable tour, we ride 478 kms back to Prague, from where we began. Time permitting we would ride through the town of Kutna Hora - for its church will human skulls & skeletal preserves. We shall reach Prague by late evening. We shall deposit our bikes and may be sit together for a dinner to recall the great moments of our ride.
The next day, you will be provided an airport transfer, where you are free to fly out as and when your return flights are scheduled.
You may not be able to take back a lot of things due to space constraints, but you will certainly go back richer in experience and cultural wealth.
Want to customise this tour? No worries :)
contact us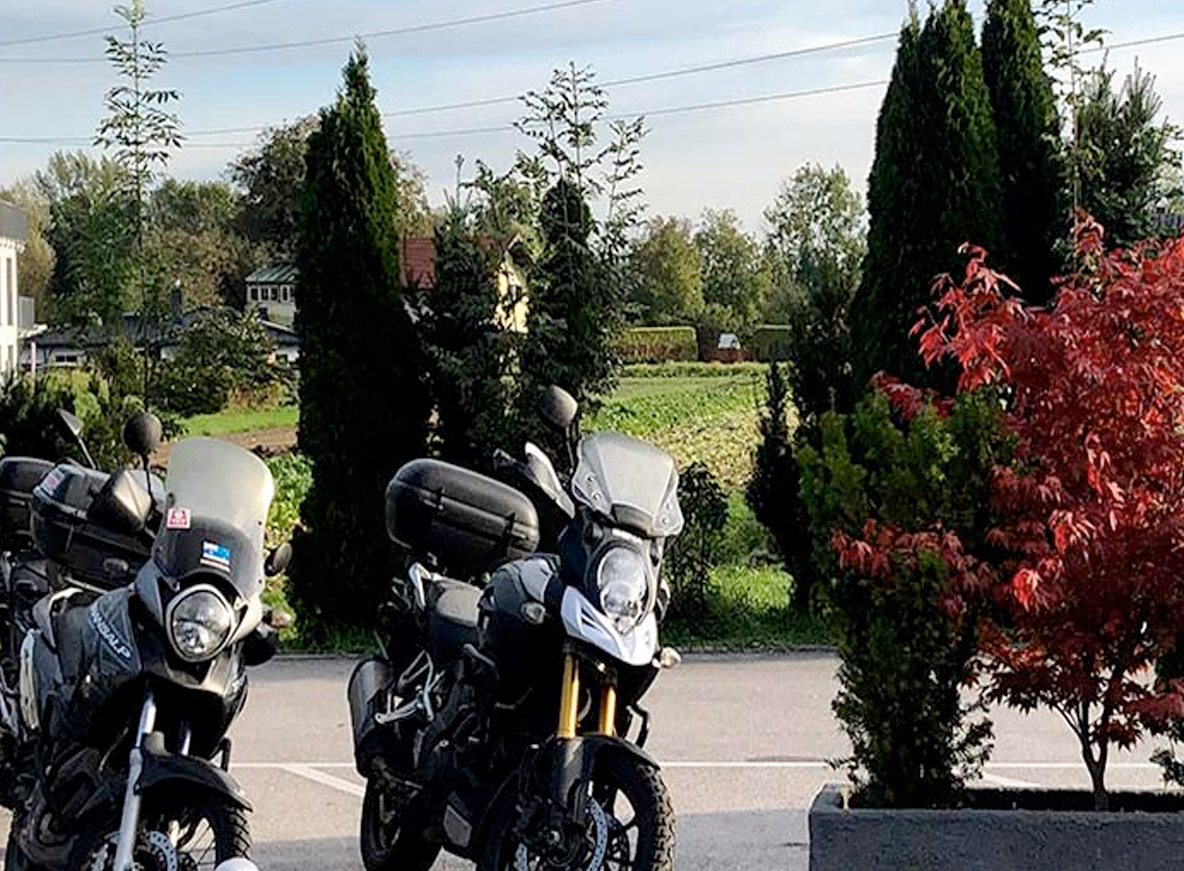 | Starting | Finishing |
| --- | --- |
| 25 Sep 2022 | 04 Oct 2022 |
| 05 Oct 2022 | 14 Oct 2022 |
| 23 Sep 2023 | 02 Oct 2023 |
| 05 Oct 2023 | 14 Oct 2023 |
8-day motorbike hire (650-700cc)
Fuel for planned route
Three City bus tours
Qualified lead rider & guide
Mid range accommodation for 9 nights
Airport transfers for the group
Bike upgrade option (at extra cost)
Visa document support
Air travel, visa fees
Personal travel insurance
5% Govt. Service Tax
Personal riding gear
Lunches, dinners
Drinks, tips, souvenirs, laundry
Anything not in the inclusions.
Important
International Driving License and International Credit Card required
Costs may marginally increase in case of less than 8 riders
Luggage panniers and top box will be provided but riders are requested to travel light
You are required to bring your own riding gear
Cancellation Policy
All cancellations are valid only when communicated in writing. Any changes due to inevitable weather or flight delays, etc., will be charged additionally, as those prices are not included in the current quote. Since these bookings are done in advance, the providers lose potential business with cancellations. The cancellation charges are as follows:
More than 30 days prior to departure: 25% of the total tour cost.
15-29 days prior to departure: 50% of the total tour cost.
07-14 days prior to departure: 70% of the total tour cost.
00-06 days prior to departure: 100% of the total tour cost.
Once you confirm we shall take you through the booking process.