Known for its spectacular landscapes, jagged mountainous outcrops and arid valleys, Ladakh is a destination many travellers hope to visit. While you may come for the treks or as part of a mammoth motorbike ride, there are some things that you simply can't miss – and the famous Buddhist monasteries in Ladakh should definitely be on the list. In no particular order: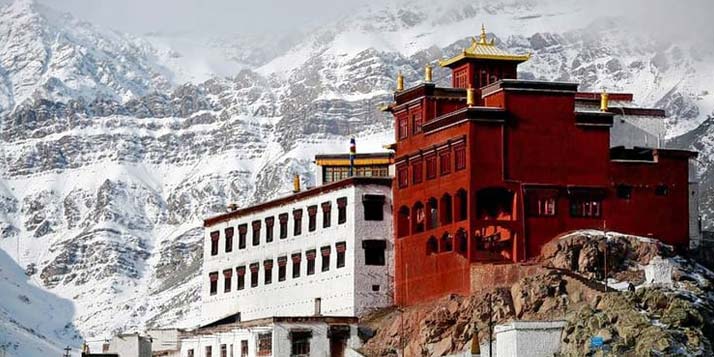 Matho Monastery
Built around 500 years ago, the Tibetan Buddhist Matho Monastery overlooks the majestic Indus Valley. Known for the Nagrang festival held annually in March to showcase Buddhist teachings and philosophies. It also houses an impressive museum which opened this year, offering tourists the chance to see bronze artefacts and medieval paintings dating back to the 9th century. Only 25km from Leh, it's said that the journey to Matho is almost impressive as the monastery itself.
Rangdum Gompa Monastery
Set atop a small sugarloaf hill, Rangdum is home to about 30 monks – and as many donkeys. Tourists come for the surreal views, as it's surrounded by snow-capped mountains and barren landscapes. Whilst the monastery itself is only 200 years old, it exhibits a range of rarely seen artefacts and statues.
Hemis Monastery
Of the monasteries in Ladakh, Hemis is the largest that the region has ever seen. It's history dates back beyond the 11th century, though the exact date of its establishment isn't known. It's also one of the most symbolic monasteries as well, thanks to the annual festival it holds in June in honour of Padmasambhava, an 8th century Indian Buddhist master known as the second Buddha by followers of Tibetan Buddhism. It's this festival that brings the otherwise barren landscape to life.
Thiksey Gompa Monastery
Like many monasteries in Ladakh, Thiksey has its fair share of festivals – most notably, the annual Gustor Ritual held in October and the trade fairs held at the base of the monastery, which allow villagers from all across Ladakh to barter, trade and socialise. It's also known for its nunnery, which attracted international support in the 1990s when awareness was raised as to the plight of nuns in Ladakh, who were seen as grossly inferior to monks and lived in appalling conditions. The nunnery is now under the patronage of Thiksey Monastery.
Lamayuru Monastery
No list of monasteries in Ladakh is complete without the Lamayuru. According to popular tradition, it was originally the foremost Bon monastery in the region – Bon is the indigenous religion of Tibet that gave Tibetan Buddhism much of its distinctive character. It's now known for the two annual masked dance festivals, which bring together monks from the surrounding Gompas (Tibetan Monastery) come together to pray.
Monasteries in Ladakh are much more than just religious buildings. Set against backdrops that are as breathtaking as they are surreal, they offer a place where anyone can find peace, no matter what their own personal religious views. No trip to Ladakh is complete without visiting at least one of these beautiful Gompas – contact our team to plan a trip that's right for you.
image source:Thrillophilia